Time to Make Money Moves!
COVID-19 has changed a lot about our world these last few months, but one thing has become clear: Continuing your education at FSW is the safe choice.

So... what are you waiting for? A special offer? Here it is:
FSW's "Make Money Moves" event: June 18 - 26!
Apply for free using the promo code MONEYMOVES once you complete your application at apply.fsw.edu
Get your FAFSA evaluated right now and be first in line for fall financial aid
Apply for scholarships that are still available that will save you thousands! We have Presidential Scholarships, FSW Foundation Scholarships, even scholarships to complete a Bachelor's Degree
Want to learn more?
Join us Thursday, June 18th at noon on the FSW Facebook page where our FSW experts will tell you all about it and answer your questions live!

Don't delay your future. FSW is the safe choice, the debt-free choice, the close-to-home choice.

Make the educated decision. Choose FSW today and let us help you make money moves that will save you thousands!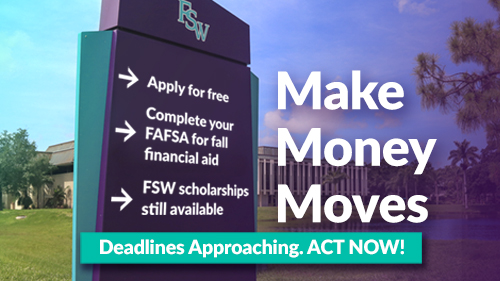 Did we mention that 70% of our students graduate debt free? Make an educated decision. #ChooseFSW